The RABBI & RELIGIOUS SERVICES COMMITTEE wants your ideas, suggestions, questions, and concerns.  Please take a minute and complete a survey (My Two Cents – but worth much more) by clicking *here.*
---
This Week: Sunset Minyan, a Shabbat Hootenanny Dinner, Shabbat Services, and an Annual Meeting, too!
The Heska Amuna Congregational Annual Meeting will be this Sunday, June 3 beginning at 10 am.  Come and hear all about the exciting plans for the coming year in your congregation. (And PS. Kimberly is busy baking special treats for us all, too!)…. And not to worry – you will have plenty of time to get to Hadassah's Luau afterwards!
Join us for Kabbalat Shabbat this Friday (June 1) 6:30 pm and enjoy our monthly Sunset Minyan. Dinner follows at 7:15 pm. (Reservations are required for dinner but not minyan!)
---
Reservations for Shabbat dinner are still open for our June  Hootenanny Shabbat Cookout. Please call now or click **here** to make your reservations by Wednesday, May 30.
---
If you weren't there, you missed a great workshop! Josh's Torah Reading Workshop, April 29 was really fantastic.  If you are interested in what happens next, let us know. Read all about the workshop ** here **. 
And yasher koach to Jeannie Bobroff for doing a wonderful rendition of her bat mitzvah by chanting her haftorah at last week's Shabbat service. 
(And special thanks to our Kallah photographer extraordinaire, Jack Benhayon)
Heska Amuna Synagogue has served the Jewish community of Knoxville, Tennessee for over 100 years. We balance respect for tradition with openness to new ideas and practices.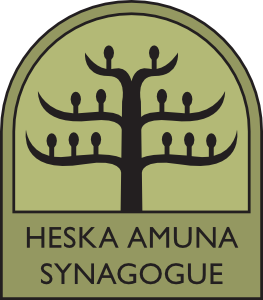 Our congregation comes together as a family in the warmth of Shabbes, the spirituality of Jewish holy days, and the sharing of life's important passages.
We are small enough to be personal, but large enough to meet the many needs of a diverse membership. We emphasize education and pride ourselves on the skills of our adult lay leadership and on the accomplishments of our youth.
We welcome all who want to be a part of our family.
Heska Amuna Synagogue is a sacred home, animated by Jewish tradition:
Finding purpose through reflection (Cheshbon HaNefesh);
Healing lives through service (Chesed); and
Celebrating God with awe and joy (Yirat Shamayim).