We streamed many of our High Holy Day services this year, which you are welcome to view at https://heskaamuna.org/streaming.
Our High Holidays included a zoom play, written for the Sunday School years ago. It was transformed this year with adult actors with twists such as the Rabbi playing a tough guy! Many thanks to Martha Iroff for providing the screen shots so we could continue to enjoy it.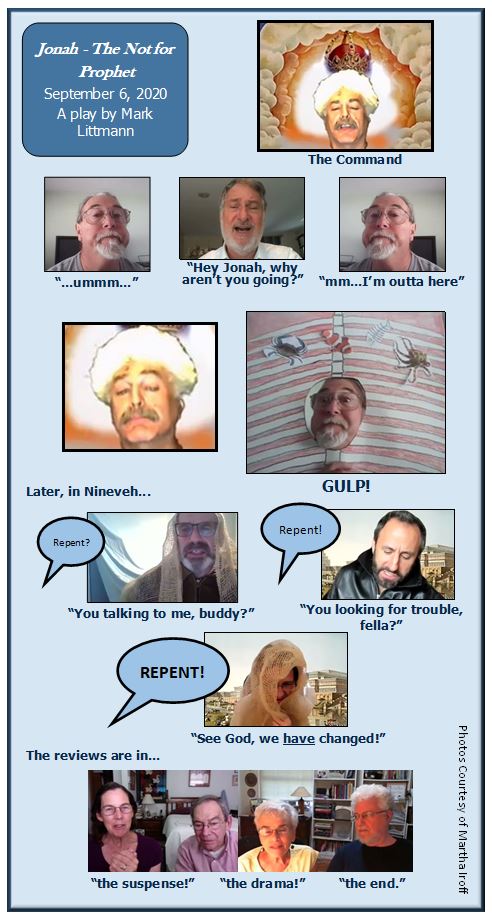 Yom Kippur Address by Jeff Becker, Chair of the Board of Trustees
On behalf of the Board of Trustees, and especially Marty Iroff and Ted Besmann, who led the High Holiday Appeal, I thank the congregation for generous support of the "Step-Up" Campaign. Indeed, we have stepped up and reached our goal for this year which exceeded last year's goal. It's a remarkable achievement under our current societal circumstances, and it's an achievement that reflects the vitality and strength of our thriving Heska Amuna Community.
Today I take my short remarks from two sources: First from a sermon of Rabbi Elliott Cosgrove – Park Avenue Synagogue, New York City, Rosh Hashanah, Day 1, 2020. Certainly, one nice thing that has come out of the Pandemic of 2020 has been availability of a widening sphere on the internet of Jewish scholars and Rabbis. Rabbi Cosgrove last week said the following: I quote
"The will and the vision to reconstruct Judaism and Jewish life has been the heroic hallmark of our people since the very beginning. Abraham first modeled it for us when, struck by the insight that there is one God, he smashed the idols in his father's workshop. Moses, having just received the law at Mount Sinai, transformed ancient Israel's religious life by way of the mishkan, a mobile desert tabernacle to house God's presence. In the seventh century BCE, King Josiah centralized Israel's worship, and then in the sixth century, Ezra upended the working definition of who was and was not a Jew. Rabbi Yohanan ben Zakkai, after the destruction of the Temple in 70 CE, transformed Judaism from a Temple-based religion of sacrifice to a Rabbinic-based religion of prayer, study, and mitzvot.
Kabbalah arose in the wake of the expulsion of Spanish Jewry; the rise of denominations and Hasidism arose in the wake of the Enlightenment and Emancipation. Rabbi Mordechai Kaplan envisaged a "reconstructed Judaism" in the 20th century after the Great Depression that gave rise to Jewish Community Centers and to some extent our modern Conservative practices. Each one of these moments, reflects a time when Jews, faced with unprecedented circumstances, honestly assessed their situation, recognized that a commitment to the Jewish past demands bold thinking about the Jewish future, appropriated the best ideas of the day, and were willing to break an egg or two in order to make an omelet. Rabbi Cosgrove Continues:
"Whatever your walk of life, whatever the challenge you face in these dark days, it is incumbent upon us all to muster a willingness to think anew about the future. It has been the core muscle of Judaism from the very beginning. Jews have always reconstructed Judaism to fit the current societal needs…. Today we must adopt a state of mind in which both idealism and realism are equally represented.
Today we have hope. We have hope and we leverage that hope towards reconstructing our future."
My second source is from the well-known songwriter Debbie Friedman, of blessed memory, whose song gives us inspiration and hope: Her song encompasses my wish this Yom Kippur, for all of my Heska Amuna Family, to my wife Nancy, my children and grandchildren:
May you find the courage to make your life a blessing. May you and your family be inscribed and sealed in the Book of Life for goodness, kindness, health & prosperity.
Enjoy a High Holiday article from Jack Love
Our holiest day, Yom Kippur, has now passed and that peculiar custom of the Jewish people to celebrate a New Year when we are in its seventh month is fully under way. In a very strange way, this was among the best High Holiday seasons for me ever–surpassed only by the Rosh HaShanah in which we welcomed Clara's mother Shoshana into the world. The silver lining to the COVID nightmare was that I was able to drop into synagogues all over the country and at least see and hear if not participate in the music and ceremony presented in places like the Park Avenue Synagogue in New York City and HaMakom, Los Angeles.
I had never dreamed of attending the service of the Park Avenue Synagogue, the flagship of the Conservative movement in Judaism. The very name "Park Ave" bespeaks a place where Bronx boys need not tread. But there I was in the cathedral where I could hear the incredibly beautiful voices of Azi Schwartz and Rachel Brook. PAS has 6,000 members and just completed a $100M renovation–numbers that just don't compute in my universe where I typically wonder if we're going to get the quorum of 10 adults we require to have our service. The two cantors with voices that would be welcome at the Met were backed by what appeared to be a full symphony orchestra and some of the liturgical pieces were enhanced by a thunderous pipe organ. Completely different was the scene at HaMakom where Danny Maseng brings the beauty of simple folk songs to their service. I loved my visits to both places.
On the second day of Rosh HaShanah I had the honor and pleasure of returning in person to our own synagogue, Knoxville's Heska Amuna where I opened and read from the Torah Scroll for the first time since March. Our synagogue made this possible by thoughtful attention to the requirements of masking and social distancing for the minyan. I spent quite a bit of Yom Kippur listening via streaming to our own congregation, and I have to say that while we can't afford a professional cantorate, our lay leaders performed admirably and our rabbi's sermon was as good or better than anything I heard at Park Avenue.
It was an especial delight to listen to the sweet voice of Professor (Emerita) Gilya Schmidt who rose to the dais for the first time since a serious illness hobbled her several months before. Gilya has been the voice of our concluding service, Ne'ilah, for many decades now, and it has become the music by which I reflect on my holy day experience.
We're a small congregation nestled in the hills of Appalachia, but we can hold our heads high knowing that these sacred passages recited for thousands of years now have their place in these here parts.