L'shanah tovah tikateivu v'teichateimu!
May you be inscribed and sealed for a good year.
---
Click *here* to open our Yizkor Book of Remembrance.
---
Click *here* to join us for Shemini Atzeret services with Yizkor at 10 am on Tuesday, Sept. 28. (The passcode is 628641).
Click *here* to join us for Simchat Torah services where we will honor Serina and Jeff Scott and Frank Floyd at 6 pm on Tuesday, Sept. 28. (The passcode is 628641).

Come by the synagogue and relax and enjoy a treat or two in the Sukkah – Thursday, Sept 23 through Monday, Sept 27 on days the office is open (10-5 Thursday and next Monday, or 10-2 Friday).
---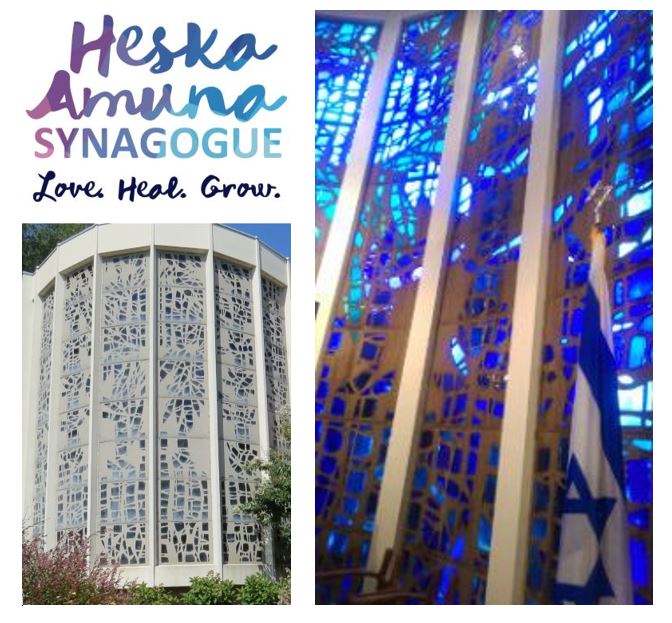 Heska Amuna Synagogue has served the Jewish community of Knoxville, Tennessee for over 100 years. We balance respect for tradition with openness to new ideas and practices.
Our congregation comes together as a family in the warmth of Shabbes, the spirituality of Jewish holy days, and the sharing of life's important passages.
We are small enough to be personal, but large enough to meet the many needs of a diverse membership. We emphasize education and pride ourselves on the skills of our adult lay leadership and on the accomplishments of our youth.
We welcome all who want to be a part of our family.
---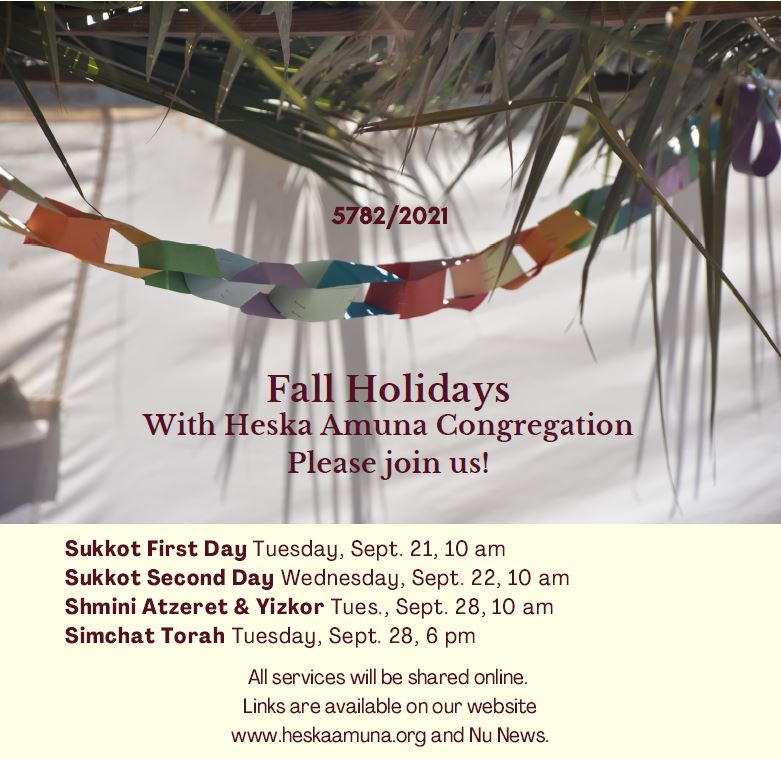 Heska Amuna Religious School will begin Saturday, September 18 at 9:30 am. Registration form – 865-522-0701
For questions about Heska Amuna Religious School, please contact Shush Carson, Dir. of Family Religious Life, at shush@heskaamuna.org.
Heska Amuna Reopening Update The committee of Frank Floyd, Martha Iroff, Marty Iroff, Marilyn Burnett, Markus Eisenbach, and Beverly Wilcox have now formulated a plan for reopening the shul. Details:
---
During the Covid-19 pandemic, we are connecting DAILY with our community for services, adult classes and talks, podcasts, meditations, sermons, and live chats. People without internet can listen by phone. Click *here* for our schedule of services and classes. (Please contact our office at 865-522-0701 or info@heskaamuna.org for details.)
---
Ongoing Services and Classes
Mondays 4:00 pm – Minyan and Torah Chat
Tuesdays 8:00 pm – Minyan
Wednesdays 6:30 pm – Minyan
Wednesdays 7:00 pm – Daf Yomi Talmud Study
Thursdays 3:00 pm – Minyan and Talmud Chat
Fridays Noon – Mindfulness Practice
Fridays 6:30 pm – Kabbalat Shabbat Service
Saturdays 10:00 am – Shabbat Morning Service
Saturdays 11:45 am – Torah Study
---
Heska Amuna Synagogue is a sacred home,
animated by Jewish tradition:
• Finding purpose through reflection (Cheshbon HaNefesh);
• Healing lives through service (Chesed); and
• Celebrating God with awe and joy (Yirat Shamayim).