This Shabbat, April 28
Join us as Josh Gettinger offers the D'var Torah.
And don't forget to sign up ** here ** to attend Josh's Torah Reading Workshop, April 29 from 10-12. 
Read all about the 
workshop ** here **. 
Beginning Torah Readers: End o' book special for Beginning Torah Readers! Please consider a reading for Shabbat on May 12 as we conclude the Book of Leviticus. The Rabbi & Religious Services committee would like to mark the concluding readings with special readers! (And, good news, many of the readings are VERY short and you can work on them at Josh's workshop!!!) Audio files and tutors are always available to help you learn a reading. To sign up for a reading, go to http://heskaamuna.org/signup/, contact Rabbi at rabbi.ferency@heskaamuna.org or Mary Ann Merrell, HAPresident@heskaamuna.org.  Images from our Shabbat torah are available from the "Services" menu above.  
---
Reservations are now open for our next Traditional Shabbat Dinner! Join us for a Mediterranean Traditional Shabbat Dinner, Friday, May 5 at 7:15 following Sunset Minyan (which starts at 6:30). Click **here** to make your reservations.
Every dinner will feature delightful recipes of our memorable congregants. In March, Marion Goodstein's hamantashen and Addie Sherky's apple cake were featured; in April the highlight is Madeline Millen's Passover brownies.
(And special thanks to our Kallah photographer extraordinaire, Jack Benhayon)
Heska Amuna Synagogue has served the Jewish community of Knoxville, Tennessee for over 100 years. We balance respect for tradition with openness to new ideas and practices.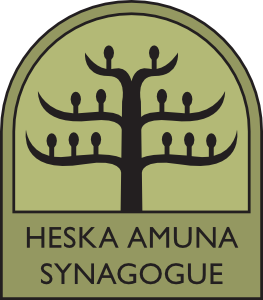 Our congregation comes together as a family in the warmth of Shabbes, the spirituality of Jewish holy days, and the sharing of life's important passages.
We are small enough to be personal, but large enough to meet the many needs of a diverse membership. We emphasize education and pride ourselves on the skills of our adult lay leadership and on the accomplishments of our youth.
We welcome all who want to be a part of our family.
Heska Amuna Synagogue is a sacred home, animated by Jewish tradition:
Finding purpose through reflection (Cheshbon HaNefesh);
Healing lives through service (Chesed); and
Celebrating God with awe and joy (Yirat Shamayim).