---
Shalom! From our congregational home to you, we wish you all a healthy, fulfilling 5779 ahead.
Help us welcome all who would like to celebrate Shabbat, the High Holy Days, and all of our holidays throughout the year. Please remind students and friends that there are no tickets required or costs to attend our services. We are a home for you throughout the year. 
A complete schedule for our High Holy Days is *here* – or you also can download our schedule *here.*
CLICK **HERE** to read some of this year's HIGH HOLY DAY READINGS for Rosh Hashanah and Yom Kippur services.
---

It's time to add your listing to our 5779 YIZKOR MEMORIAL BOOK. Please support this Women's League program. If you would like to submit a listing, click the YIZKOR button at the top of this page or click *here* for information on the various donation amounts and how to submit your listing. To review your listing in the 5778 Yizkor book to consider repeating your past listing, please click *here* to see last year's lists. Please submit your listing by August 15.
---
We have a wonderful kosher kitchen and, in our well-known tradition of creatively taking care of body and soul, a dedicated Kitchen Director, too! If you have questions about using our kitchen or kashrut at Heska Amuna, ask our Kitchen Director Kimberly Ault, or read our kashrut guidelines *here* (and if you have any comments just let us know.)
And just a reminder: to preserve the kashrut of our synagogue, we ask everyone to (1) please fill out a request to use the building for your meeting or event and (2) please obseve the Potluck Policy (click here to read it!) when bringing in any food or drinks into classrooms, offices, the library, or Sid's Cafe (or for your Potluck events held in the Rosen Social Hall, too).  
---
August 21, our Torah readings will be from Shofetim (Judges) and many are quite short and perfect if you have been contemplating trying a torah reading one day.  Go to "Services" and then "Shabbat Readings" from our main menu to see the images from the torah that we will be chanting from on the 21st. If you would like help learning one of the readings, just ask! Email us at HAPresident@heskaamuna.org.
---
---
Let us know if you have any questions we can answer!
---
Thank you to everyone who joined us and made our Kallah outstanding! Read all about it.
(And special thanks to our Kallah photographer extraordinaire, Jack Benhayon)
Heska Amuna Synagogue has served the Jewish community of Knoxville, Tennessee for over 100 years. We balance respect for tradition with openness to new ideas and practices.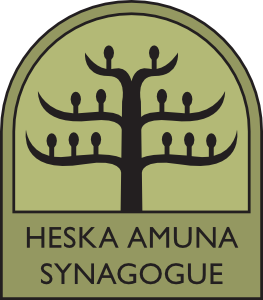 Our congregation comes together as a family in the warmth of Shabbes, the spirituality of Jewish holy days, and the sharing of life's important passages.
We are small enough to be personal, but large enough to meet the many needs of a diverse membership. We emphasize education and pride ourselves on the skills of our adult lay leadership and on the accomplishments of our youth.
We welcome all who want to be a part of our family.
Heska Amuna Synagogue is a sacred home, animated by Jewish tradition:
Finding purpose through reflection (Cheshbon HaNefesh);
Healing lives through service (Chesed); and
Celebrating God with awe and joy (Yirat Shamayim).