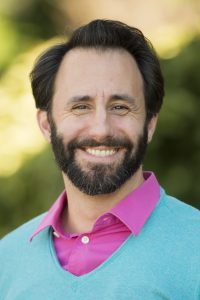 Alon C Ferency [he|him|his] is our rabbi since 2010, husband to Karen, and father to Elhanan, Avishai, Adin, and Kaya. Raised in Greater Boston, he pursued Israeli-Palestinian economic integration at Harvard University. After a bicycle trip from Seattle to Boston, Rabbi Ferency entered the Peace Corps in Cameroon as a Community Health organizer. Then, he worked in the music industry before receiving a Master's Degree in Informal Jewish Education from the Jewish Theological Seminary and rabbinical ordination from the Ziegler School. Rabbi Ferency is a fellow of the Clergy Leadership Incubator.
He was rabbi-in-residence at Bonnaroo and religious consultant on Burt Reynolds' The Last Movie Star. Rabbi Ferency is a Dungeon Master for tabletop role-play using Hebrew Bible and Jewish Folklore, leads a Mindfulness Practice and produces meditations on InsightTimer. He wrote chapters and articles for the Mesorah Matrix series, Conservative Judaism quarterly, Sh'ma online, and an upcoming book on spiritual care for athletes. Rabbi Ferency is an editor to the Rabbinical Assembly's Pirke Avot and Esther while drafting his book on the Spirituality of Mindfulness and Creativity.
An alumnus of the Tikvah Fellowship, Leadership Knoxville, and the University Chancellor's Associates, Rabbi Ferency is the first treasurer of the Community Coalition Against HumanTrafficking. He served the Mayor's inauguration and the Superintendent's Task Force on Disparities in Educational Outcomes, and is a member of Justice Knox, the Community Health Council and the ethics committee of the University of Tennessee Medical Center. Alon does yoga, reads science fiction, and plays soccer. You can follow Rabbi Ferency on Insight, Podbean, Spotify, Twitter, and YouTube.
Contact me: