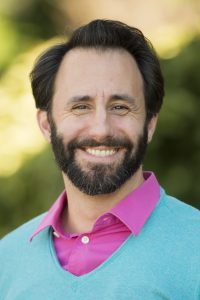 I pursued Israeli-Palestinian economic integration at Harvard University before graduating in 1997. After a bicycle trip from Seattle to Boston, I entered the Peace Corps and served in Cameroon as a Community Health organizer. Then, I worked in the music industry before receiving a Master's Degree in Informal Jewish Education from the Jewish Theological Seminary and rabbinical ordination from the Ziegler School in 2010.
My wife Karen and I first visited Knoxville in the spring of 2010. I was completing my seminary studies, and Karen already had a significant career as an Environmental Engineer. For us, Heska Amuna Synagogue was love at first sight! After seeing the Sanctuary and meeting the wonderful people, I remember our thought process quickly turning from "This might be a good pulpit" to "I'd like this job" to "I sure hope I get this job."
Since then, y'all haven't proved us wrong. Life in Knoxville, Tennessee is good for us. Karen is happy here as a potter, community volunteer, and devoted mother. This Synagogue has embraced my family, and we feel at home with you. Our sons were all born in local hospitals, and their britot milah were all in the Sanctuary. Our kids treat the Synagogue like a second home – for good and for ill, if you've seen and heard them careening down the halls. Our eldest son's first step was at an early Choot'nanny, listening to the string band I'd gathered to celebrate Shabbat.
Another great benefit of serving as a rabbi in a growing Southern city is the degree of civic engagement I have. I am an alumnus of the Tikvah Fellowship, Leadership Knoxville, and the University Chancellor's Associates, and have served at our Mayor's inauguration and on the county school Superintendant's Task Force on Disparities in Educational Outcomes. I was on the Community Health Council and the ethics committee of the University of Tennessee Medical Center, and I am the first treasurer of our Community Coalition Against Human Trafficking.
Also, I was the rabbi-in-residence at the Bonnaroo Music and Arts Festival, and more recently, I was the religious consultant (and a featured extra) on the movie The Last Movie Star with Burt Reynolds and Ariel Winter. I have been a contributor to Conservative Judaism quarterly and Sh'ma online, and have chapters in forthcoming books on liturgy and spiritual care – I hope to begin work on my own book shortly. Meanwhile, you can hear my sermons on iTunes. In my spare time, I still do yoga, read science fiction novels, and play on a soccer team. I've picked up Zumba and play in a weekly Dungeons & Dragons game.
I am passionate about our history, our multi-generational families, and the warm experiences we share together. Over the years, warm one-on-one relationships have blossomed with so many of you. We sit over Shabbat dinners and other meals, or walk in the many lovely outdoor spaces of East Tennessee. Today, I am excited about our shared future with the Diane and Guilford Glazer Fellowship, which will help us to marry our social commitments with the financial security of the Synagogue we all love.
(He/ his/ him)
Contact me: