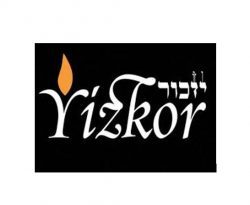 To perpetuate and honor the memory of our departed relatives and friends, please participate in our Heska Amuna Women's League traditional YIZKOR BOOK OF REMEMBRANCE.
You can download a copy of the form here or you can complete the online form below. (Or if you have questions on completing the form, just contact Peggy Littmann, plittmann@comcast.net.)
This annual publication is first distributed during the upcoming Yom Kippur service and then is used for the three additional Yizkor services throughout the year. By remembering our loved ones in this sacred service, we fulfill the prayer that the memory of the righteous be a blessing. We invite your participation in the 2018 -2019 book to honor and memorialize your loved ones.
Please contribute $18 for one name, $30 for two names, $40 for 3 names and $5 each for each additional name up to a maximum of $55. So as many names as you would like, but price is capped at $55. A married couple listed on the same line is considered one name, such as: Sigmund and Sarah Lieberman. The deadline is August 10, 2018.
In lieu of individual listings, for $125, you may select a personalized full page honoring your loved ones.
Submit listing information with your check made out to Heska Amuna Women's League with a notation "Yizkor Book" to:
Peggy Littmann,  6911 Haverhill Drive,,Knoxville TN 37909, or to the synagogue. Or send an e-mail to Peggy to indicate renewal of last year's listing. plittmann@comcast.net.