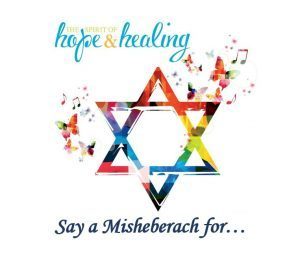 Click here to add a name to our list.
We maintain two lists for our misheberach. In the Shabbat program, we list the names of all Heska Amuna Synagogue members in need of healing and recite their names during the misheberach in our Torah service. Names remain on this list until you notify us that you would like the name removed.
We also welcome you to provide names of your family or friends who are not members of our synagogue but are in need of healing to be included in our "Family and Friends" list that is also in our Shabbat program. For those family or friends who are not a member, keeping the list current is difficult since many are not known to us, so we ask that you help us keep this information up-to-date. We will keep all names on the "Family and Friends" misheberach list for a month; after this time, if you would like for the name to remain on the list, just let us know by clicking the above link and filling out this form or by contacting the office.
Every Shabbat, we also invite you to say the names of anyone in your thoughts to be included as we recite the misheberach.