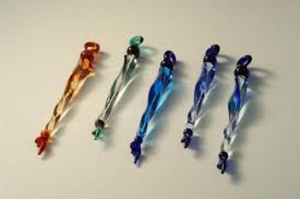 Click here to sign up or to log in your participation.
We hope to enroll all of you trailblazers into our Yad Squad – and your family, too! The Yad Squad is a program suggested by a gentleman who often enjoys Shabbat with us; it is designed to encourage, promote, and recognize those who lend their talents to our services.
"Hey, are you talkin' to me?" You bet I am!
In addition to a variety of recognitions, program participants reaching the highest level also will receive their very own yad. Recognition levels are:
10 Points – Bronze Yad (בְּרוֹנזָה);
15 Points – Silver Yad (כסף)
20 Points – Gold Yad (זהב)
25 Points – The Yad (יד)
How are points earned? It doesn't get easier than this:
Torah reading – 2 points; Haftarah reading – 4 points
Leading a service (minyan, Shabbat, or holidays) – 3 points per service
Celebrate your Bar/Bat Mitzvah anniversary by re-reciting your haftarah; (you don't have to give your thank-you speech again, unless you want to) – 5 points!
Don't know Hebrew? Not a problem!! Offer a D'var Torah for 5 points!
Points can be accumulated individually or as a family, too. We look forward to celebrating you with you!
We all have a role to play to assure that our Heska Amuna Synagogue traditions and ritual expressions remain vibrant for all generations to come. And if perchance you might be thinking you don't have time or you don't know how to do this or that, just remember: we have a more-than-willing cadre of teachers and congregants that welcome the opportunity to share their know-how with you. Consider the possibilities!
Questions? Comments? Suggestions? Concerns? Let us know: RRS@heskaamuna.org