---

SHABBAT, March 17

Joyce Robinson-Diftler and Dr. Harold Diftler are cherished long-time members of our community. We regret to see them move to Southern California next month. Thank you to the Diftlers for sponsoring a fabulous kiddush to say goodbye to their beloved Jewish home of many decades. They will be sorely missed.

(Thank you to the Knoxville Jewish Archives, archivist Nicki Russler, and to Melvin Sturm for providing this clipping from the Knoxville Journal. The photo was clipped by Melvin's mother Beatrice when it was published in the 1950's.)
---

"Nu News" and Rabbi Ferency's "New Moon News" are now available here on our website.   Click **Nu News** or **New Moon News** for the latest editions, click "About Us" from the menu at the top of this page.  

---

Friday, March 30, 5-8 pm, Heska Amuna Community Seder. Click **here** to make your reservation. (Please make your reservations so we have plenty of time to cook and move our furniture!)

---

If you missed making a reservation to join us for Shabbat Dinner last week, sign up now for our next Traditional Shabbat Dinner on Friday, April 6.  Click ** here ** to make your reservation.

---

Sign up ** here ** to attend Josh Gettinger's Torah Reading Workshop, April 29 from 10-12. Read all about the workshop ** here **.

---

Thank you to everyone who made "Experiences of Cuba: A Lunch Program for the Community" a great program:

To our sponsors: Hadassah Knoxville, Women's League, and Heska Amuna Synagogue
To our outstanding speakers: Trudy Dreyer, Lisa & Jeff Jacobson, Kim & Stephen Rosen, and Sandy Parker & Steve Beber.
And, to our truly Excellente program staff: Including Flan Chef extraordinaire Frank Floyd, and to everyone who helped him – Jeannie Bobroff, Peggy Littmann, Martha Iroff, and, Jennye Merrell; and to Marty Iroff and Bryan Merrell for techno-everything.

If you missed the program and would like a chance to see the documentary, please let Mary Ann Merrell (HAPresident@heskaamuna.org) know. It will be available for us to view until the end of March. 

---

Thank you to everyone who joined us and made our Kallah outstanding! Read all about it.
(And special thanks to our Kallah photographer extraordinaire, Jack Benhayon)
Heska Amuna Synagogue has served the Jewish community of Knoxville, Tennessee for over 100 years. We balance respect for tradition with openness to new ideas and practices.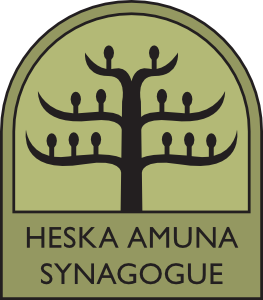 Our congregation comes together as a family in the warmth of Shabbes, the spirituality of Jewish holy days, and the sharing of life's important passages.
We are small enough to be personal, but large enough to meet the many needs of a diverse membership. We emphasize education and pride ourselves on the skills of our adult lay leadership and on the accomplishments of our youth.
We welcome all who want to be a part of our family.
Heska Amuna Synagogue is a sacred home, animated by Jewish tradition:
Finding purpose through reflection (Cheshbon HaNefesh);
Healing lives through service (Chesed); and
Celebrating God with awe and joy (Yirat Shamayim).